I've been having some issues with power to my Apple MacBook Pro 17″ Core Duo laptop recently. There have been issues with the fans for quite some time, especially the left one, so I thought that might have been part of the problem. The left fan was especially crunchy. So I ordered two new fans for it and went through the replacement process on my own (details to come in an upcoming post). That didn't do the trick.
Later on that night, my MacBook shut itself off again. Really annoying. I flipped it over to look at the battery meter and noticed that the edge of the battery was above the edge of the battery compartment. I popped it out and low and behold, it was starting to swell. You could definitely feel some of the cells were expanding and thus pushing the "aluminum" plate off the battery. Having seen posts about this same problem online before, I did some hunting and found this article over at Apple.
I had already installed the Apple Battery Update 1.2, so I decided to roll the dice at my local Apple Store and see if I could get it replaced. My MacBook is out of warranty, so I was a little skeptical, but figured if it saved me the $129 for a new battery, it was worth a shot.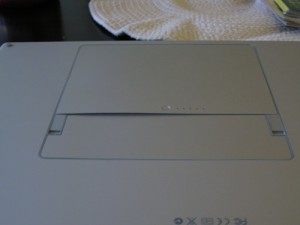 So off to the Apple Store at the Natick Collection in Natick, MA I went. The Mac Genius I spoke to, Ray, was very very nice and as soon as I showed him the battery he said he'd be more than happy to provide me a replacement at no charge even though the MacBook is out of warranty. Even more, this battery has its own new 1 year warranty, so I should be set if I have any more problems.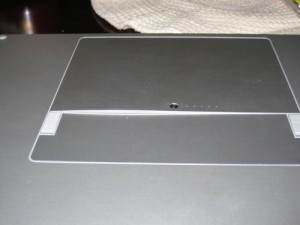 I think the model I had was A5389, serial number 6N7161H9WX4A. I'm not 100% sure when it was manufactured, but the date on it was 2006. Anyway, if you're having similar issues with your MacBook, I definitely suggest that you go to the Apple Store and have them take a look. You might save yourself $129 in the process.